Seb Reviews the Tt eSPORTS Black Element
| | |
| --- | --- |
| Writer Overdose at 2012-06-21 at 4:28 PM | 1 |
As with any other avid gamer, once I had found a mouse I was used to I was very reluctant to switch. That wasn't the case with the Tt eSports Black Element, however. Upon first glance it's got a very striking, unique design – unlike my previous mouse (a Death Adder) it was usable on both hands. Although this lead me to believe that it might not be a comfortable fit on my right hand, I was pleasantly surprised. Long gone was my silly claw grip on the Death Adder. Welcome was the palm grip, giving me much more precision.

The design doesn't stop there either. It's got an awesome dragon logo on the mouse, which along with the sides and mousewheel, you can choose to change its colour out of red, light blue, dark blue, green, and pink. "LOL PINK, THIS IS GREAT" I thought to myself at first, but being an Infused player at heart, I was destined for red.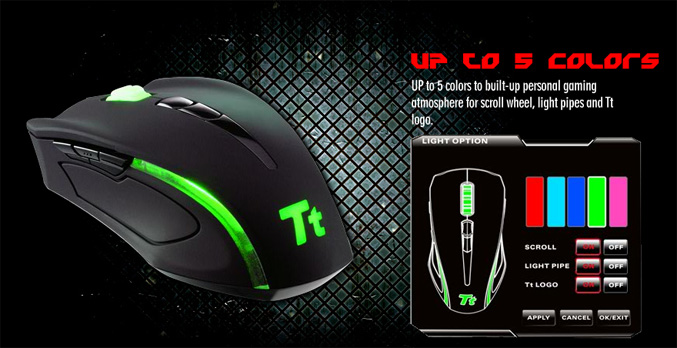 The amount of buttons initially took me by surprise. There were so many I didn't think I'd be using mouse 1 or mouse 2 before having pressed 6 buttons already, but the buttons are placed very well. They're there, but not in your face – you won't accidentally hit them, nor do they become annoying. The software is fantastic though. You are given so much freedom to customise the mouse, from colour, to exact DPI, to which button does what. Straight away, I unbound the sensitivity buttons. You find the sensitivity best suited to you, and you leave it at that. Forever.




The customisation doesn't even stop there. You can even adjust the weight of the mouse. Inside of the mouse there are five 4.5g weights, each of which you can take out. Personally, I left them all in. the mouse was already easy to hold and fit my hand well, but it's nice having the option there.

For me, the best part of the customisation is the DPI. Unlike most mice, you aren't limited to three preset DPIs – 800, 1600, 3200. With the Black Element, you can put in the exact number. Want 1874 DPI? Have it. Are you a leet gamer? Oh, 1337 DPI. You're cool.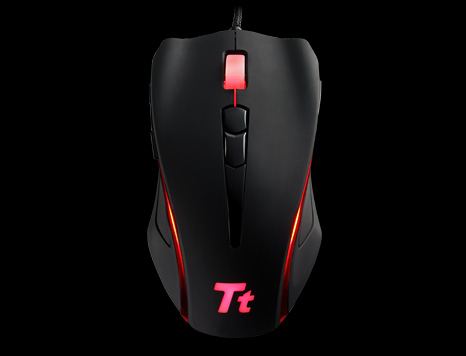 As with most mice, you can switch profiles with the press of a simple button on the bottom of the mouse, except with the Black Element you can have a parade of different colours on each click. OMG. It's a rainbow.

Personally, this is one of the best mice I have ever used. It fits my hand perfectly, it's light enough that I don't need to adjust weights. I can choose exactly what DPI I want, I can choose what each button does. There is so much customisation that you can truly make this mouse your own.

The Tt eSPORTS Black Element gaming mouse will shortly be available in Combat White!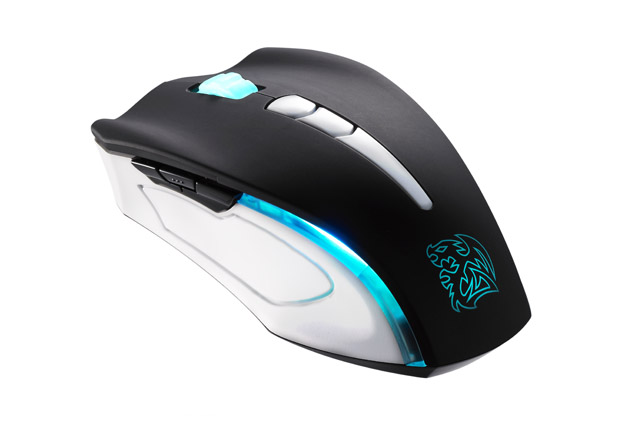 Specification
• Model: Black Element Gaming Mouse(MO-BLE001DT)
• T.P.G. (Tt Pro Grade) Gaming Laser Sensor 6500 DPI Engine (100 - 6500 DPI Adjustable), Functional on Most Surfaces.
• OMRON© Gaming Switch Capable of up to 5 Million Keystrokes.
• 1.8 meters Braided USB Cable with Gold-Plated Connector.
• 9 Fully Customizable Macro Keys for MMORPG or RTS Game Genres.
• Superb Customizable Graphical UI for Macro Keys, Advanced Performance, and Lighting-Effect Options.
• 5 Individual, Striking Pause-Break Lighting Effect.Colors: Red, Blue, Green, Pink, Light Blue.
• Industrial Grade Rubber-Coating Finish for better Hand Grip.
• On-Board 128kb Memory Storage for 45 Macro Keys in 5 Game Profiles.
• Weight-In Design for Perfect Handling Mouse Movement: (5 x 4.5g, up to 22.5g max)
• Body Dimension (LxWxH): 123.8 x 66.7x 41.6mm.

Available from

ttesports.com
COMMENT FROM hankkk on 2012-12-05 at 7:10 AM
Please log in before writing comments.