Rocket League
Mon 10th Aug 2015 - 12:06pm
:
Gaming
Recently a new game was released for Playstation 4 / PC. Now we see new games being released all the time, some bad, some awful, some good and some just plain amazing. Among the large lits of newly released games, one happened to catch my eye and I had to get it. Rocket League is a sequel to the Playstation 3 release of "Supersonic Acrobatic Rocket-Powered Battle-Cars," which was released back in 2008. SARPBC was more aimed towards multiplayer fighting using cars however Rocket League is focused on being a "Football with Cars" game.
Check out the trailer for the game:
So after the trailer was released, my first thoughts were to see what kind of cars would be in the game. As any passionate gamer who loves driving games, being able to choose different cars and customize them to how you want is something that everyone loves. From release there are "x" types of cars, they are:
My favourite so far would have to be either the Hotshot, Paladin or X-Devil.
So what kind of customization is available?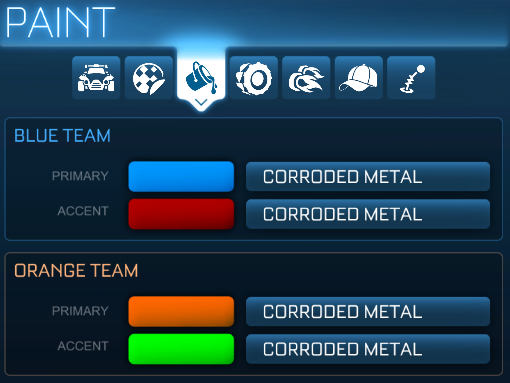 Inside the customization option there are 7 tab's in total. These tabs are:
Which car you wanted to pick
Decals
There are several types of paints for Base colour and Accent, these are Corroded Metal, Glossy, Matte, Metallic and Semi-Gloss
What kind of wheels you want
Your rocket trial (What shoots out the back of your car when you boost)
What kind of hat you want
The Antenna on the back of your car
So far, I've found myself preferring the Corroded Metal paint jobs, and with the rocket trail it would either be the Rainbow, or the Slime.
So let's take a look at a highlight clip from our own Hadoukenzzz, he was playing with a couple friends and managed to record one of his sessions:
Final thoughts:
For me I would rate this game [92/100] it's a great game, it brings back childhood memories and just has a great feel to it, no matter how bad or good you may be, you can feel the improvements and really enjoy it. I would definately recommend getting the game.